All Nature Air Purification System
EnvoAir is our unique design of All Nature air purification system using natural plants, for billions of years plants have been purifying the planet earth's atmosphere, our design enhance and release more of this nature power to clean our indoor air, using EnvoAir's innovative design, and on-going university research.
Superior air purification is carried out by a system consisting of plants and growing medium, contaminated air is pressed through the root zone area by our powerful but energy efficient ventilator.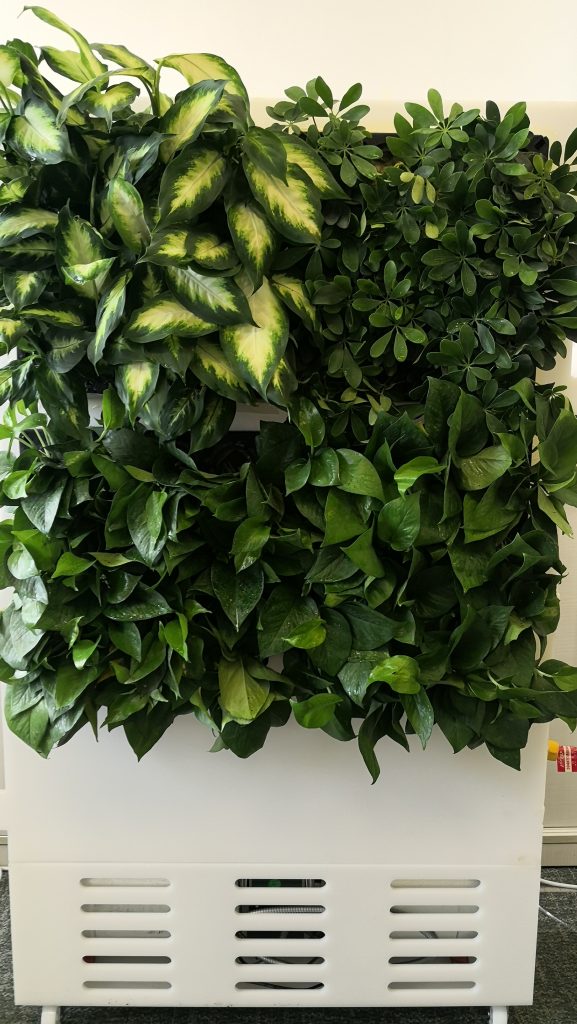 Advantages
EnvoAir green wall is a scientifically proven and our unique designed green wall system, which accelerate the filtration of air pollutants such as PM2.5 particles, VOC and bacteria, with a patented modular construction methodology with capsuled root zone filtering system of Envo-Air Flow (EAF) Technology.
In addition, the green area provides a cooling effect that the green area temperature is always lower than the  surrounding, giving no burden to the existing air condition and ventilation system.
The EnvoAir green wall is the first functional green wall in the region, creating nature fresh air indoor providing many health and well being benefits.
Key Features and Benefits :
Envo-Air Flow Technology
Modular with capsule design enables easy installation and maintenance
EnvoAir Green Wall is built with recyclable materials which can be reused and recycled (> 90%)
Envo-Air Flow (EAF) makes uniform of air flow through the capsuled rootzone filter for efficient air purification removing PM2.5, VOC and bacteria.
Use energy saving components (save 50% up) – super quiet motor
Sound barrier improving acoustics in open plan spaces (noise reduction)
Cooling effect, green area temperature is always lower than the surrounding
Biophilic design and outlook – for Smart City
EnvoAir system operating principles